No matter how competitive you get in the business world, sooner or later it becomes necessary to stay combative online as well. Earlier, businesses could thrive in the absence of a digital appearance but today in this dog-eat-dog environment, switching online is the first step to establishing a successful online commercial setup. 
This rapid paradigm shift is giving rise to a boastful global software market that was worth USD 429.59 billion in 2022 and is expected to increase with a compound annual growth rate (CAGR) of 11.7% for the forecast period of 2022 to 2030 according to Grand View Research.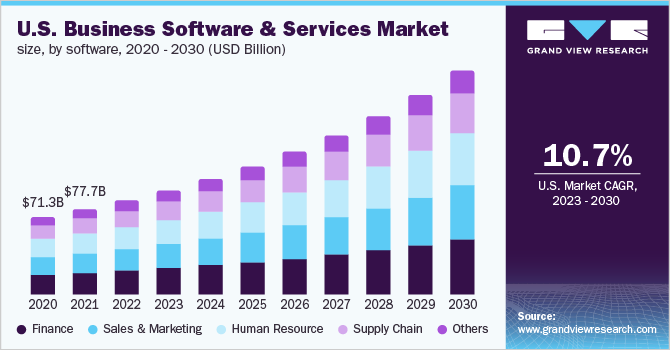 As customized software provides more personalized and advanced features, it enhances the opportunities for businesses to expand their reach. However, the process of choosing the right software development partner is not as straightforward as it may appear. It can be a challenge to select the best software development company in the market that delivers excellence.
In this blog, we will reveal some valuable tips to ease your journey when approaching a software development company. Let's get started!
Top Tips to Choose the Right Software Development Company
1 – Get Referrals from a Trusted Partner 
Nothing can outsmart a referral from a trusted friend. As an organization, putting the trust only in reliable software development companies has always been proven to be a wise decision. 
You may find countless IT service companies claiming they stride parallel to the latest tech breakthroughs, but this is not always the case. Getting referrals from trustworthy collaborators is a perfect strategy for seeking the best software development agency. 
2 – Go for Low-code Services  
Buggy or resource-hungry codes prevent the platform, interface, and software from acting sloppy. It eventually creates challenges for users to interact with the software in a satisfying manner. Therefore, you must pursue customized software development companies that offer services of low-code software development to ensure high-quality code.  
3 – Select Agencies with High Technical Skills
Software development agencies that integrate emerging technologies into software help businesses attain excellence in their fields. Agencies with cutting-edge technologies improve the overall interaction efficacy of your software and enhance user experience. These agencies use enterprise-grade tools, agile methodologies, and high domain knowledge to develop software that meets your intent. 
4 – Emphasize Interactive and Engaging UI/UX
Nowadays, users rate software based on several factors, such as time taken for pages to load, smooth website navigation, engaging user experience, high levels of website responsiveness, and ADA compliance. These parameters exclusively contribute to boosting the brand recognition of an online business. Thus, it is pivotal to choose a company with excellent creativity in user experience to increase user engagement in software. 
5 – Ensure That the Software Meets Your End Business Goals
Drafting an outline about what businesses want from their custom software and how they want it to interact with the users is essential before reaching out to a software development company. Lucid business visions and objectives define a path for software engineers to follow and accomplish only what is intended.  
6 – Prefer Agencies with Certifications and Accreditation
In the world of reckless tech services, unregistered companies are also bludgeoning into the category of custom software. While selecting the best software development company for custom software development, it is imperative to verify the authenticity of the company by checking certifications, such as the International Organization for Standardization (ISO). This ensures the company is versed in the best practices and regulatory standards of software development. 
7 – Ensure That the Software Delivery Time is Reasonable
Understanding the timeframe and the urgency of the software is central as delayed projects can lead to postponed launches and failed plans. When foraging for the best software development services providers, you should carefully select an agency that takes the least time to develop software, from conception to deployment. A multitude of companies guarantee careful engineering and custom software development within 4-9 months. Besides, other factors like the complexity of the software, geographic location, and engineers' profile also influence the closing dates. 
8 – Rely on Testimonials
Happy customers are the best people to recommend the right brand name. Whenever in doubt, screening and comparing through a variety of testimonials should be contemplated before selecting the right custom software development company. Reviews on numerous websites, such as Google, Clutch, GoodFirms, and G2 Crowd can be used for your benefit. 
9 – Establish Clear Communication with the Agency
Ever heard this quote, "Good communication is the bridge between confusion and clarity"? It is indubitably true. 
Selected businesses should dictate and effectively communicate the functionalities that they require in software. Less or inefficient communication results in extensive re-coding, revamping user interface, adding features, or overall dissatisfaction. All these combined can create nothing but havoc. Being straightforward spares valuable time for both parties, a custom software development company and a business. 
10 – Emphasize Software Security and User Data Safety
According to the report from Security Outcomes Report, Vol 3 by Cisco, 46% of companies across 26 countries expressed that it is challenging to keep the scope of security-related incidents limited or minimized. 
The number of cyber criminals is exponentially increasing daily, even way more than the count of ethical and qualified software engineers. In this state of emergency, it is imperative to hire a software development agency that tirelessly watches the data to avoid security breaches that result in a stained reputation and a loss of trust. 
Select an Agency that Provides Post-deployment Support
What's more challenging than developing an app is to ensure that it is running as intended. Active technical support, involving fixes and additions, updates, plugins/integrations, debugging, cyber security, firewall monitoring, and minimizing downtime is vital for software to perform adequately and deliver top-notch customer satisfaction.  
A professional software development company has plenty of experience in lending active support and maintaining the optimal functioning of software even after its deployment. Diverse teams with specific excellence in multiple domains help businesses stay carefree about data breaches, unplanned downtime, privacy loss, and revenue plundering.    
Conclusion
Developing interactive and engaging software is not an arduous task. However, there are certainly some factors that impact its visibility and accessibility to end users. Therefore, a business should always conduct in-depth research and communicate its business goals to its chosen custom software development company. 
Jellyfish Technologies is a leading software development company with cutting-edge technologies and innovative minds. Our top IT services include custom software development, data security, AI integration, machine learning, and technical support that supervises the overall journey of a business's growth, from custom software development to sustained management. 
FAQ
Should I hire a software development company or a freelancer to develop my software?
Instead of hiring a freelancer, it is advised to consult a software development company for exceptional services. The latter has upgraded knowledge of the tech stack, premium subscriptions of upgraded tools required for coding, hands-on experience, and dedicated teams, such as data security, server maintenance, and data recovery. All these assurances are difficult for freelancers to meet.
How do software-producing companies ensure data safety? 
Proficient custom software development companies implement various measures to ensure the data is safe from cyber threats and unauthorized breaches. Some of the techniques are deploying password management tools, following a strict data management strategy, and standardizing minimum security protocols to be followed always.